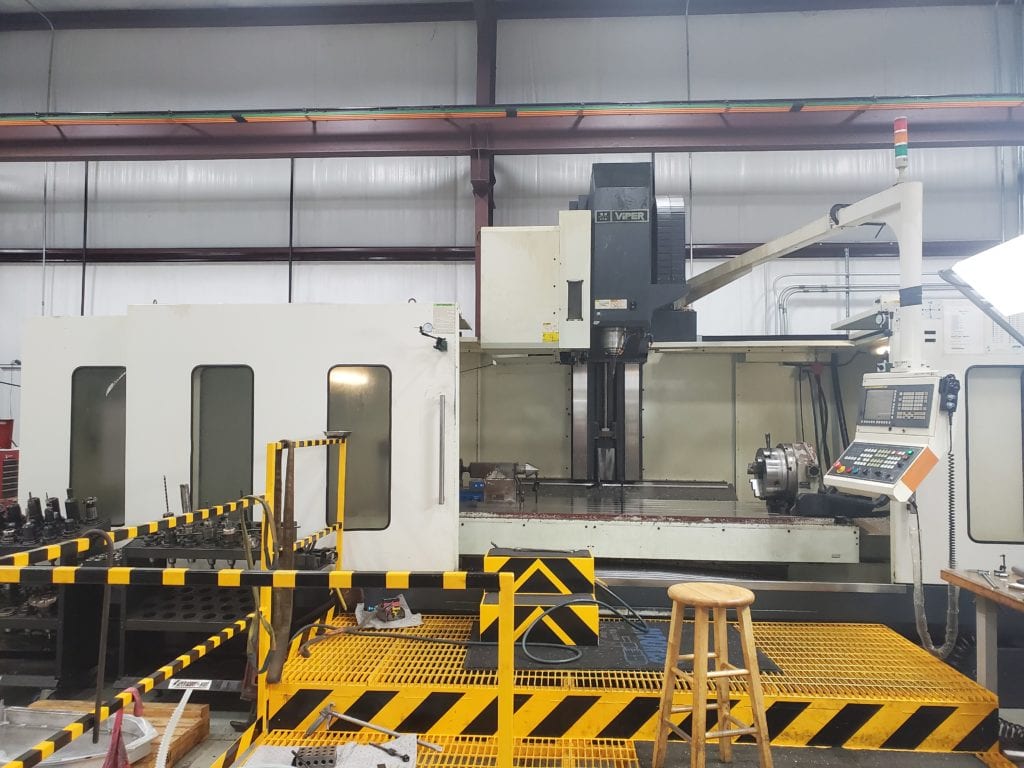 Make
Model
Between Centers
Thru Bore

VIPER

VCM-3100

X-100″|Y-40″|Z-40″
4th Axis Max Dia.-20″
6.5″ Thru

MAZAK

VCN 510C/50II
X-40″|Y-20″|Z-26″
4″

HAAS

VF-5/50XT
X-60″|Y-20″|Z-32″

4 1/16″
At Moore's Machine Shop and Fabrication, our CNC mills are a huge part of our operation in the machine shop. While the lathes handle most of our material removing, the mills handle the more intricate, nonrotational side of our machining. Under professional supervision, we have multiple programmers and machinist who are highly trained in multiple types of CAD software. From simple jobs like drilling and tapping holes to more intricate jobs that require multiple axis machines, at MMS, we take every job seriously and aim for perfection every time.
It is very common in our CNC mill department to do only the mill work for a customer who may be able to do the other processes required for a part but do not have the capabilities to do the mill work. We partner with several customers, to not only do the mill work but also to offer our knowledge and expertise in the design and manufacturing process of their parts. We also reverse engineering, a process that takes a completed part with no drawings or dimensional specifications on it, inspect it and then turn it into a drawing for the customer, in order to be able to manufacture the parts accurately going forward.
We welcome you to bring in your project, no matter the size, so we can help in the design or manufacturing of it. With decades of knowledge and the tools to accomplish the job, we believe you will benefit from having MMS on your team. We encourage you to call or send us an email with any questions you may have. We have a team full of capable individuals who enjoy the process of machining and want to take the stress off of the customer by giving them a complete product to the standards they require.